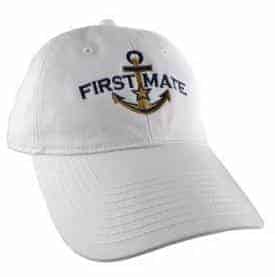 Recreational boating has been a big part of my life and all of Doug's life. He was born and raised at the family marina, Dawson's Marina Limited on Lake Simcoe. I have had the opportunity to talk to thousands of First Mates at the marina, on the water and at the Boat Shows I've worked, since the mid 60's.
Doug and I have been boating together since our teens in the 60's. He is 5th generation and has been boating since he was tall enough to see over the windshield. During our years at the family marina, Doug and I had the opportunity to holiday in inventory boats and deliver boats both new and used—everything from daycruisers, cruisers, houseboats, trawlers, motor yachts and sailboats up to 48'. We even spent our honeymoon on a boat.
This sounds like an envious position to be in. But,
what it meant was, I had to provision the boat completely from having nothing aboard to having everything we needed. I had to do everything from stocking the boat with food, to cleaning to equipping the boat with everything needed for cooking, entertaining, bedding, clothing, first aid.
In other words, inventorying different types of boats for everything from an evening cruise with friends to a two-week holiday.
Then, stripping it and re-cleaning it to put back on the sales dock. It took me many hours of work to accomplish this task, sometimes over days.
Over the years, I learned a lot by trial and error and I also learned from Doug's Mother who spent many years before me figuring out how to be a First Mate.
But, I knew there is always more to learn.
In the early 80's, Doug started reviewing boats for Canadian Yachting, then Power Boating Canada Magazines. I got to go on reviews and type all of them for him so I have had an opportunity to see and learn about all the new models.
We have also delivered new Motor Yachts from New Jersey to Florida and encountered tides and ocean waves as well as the Intracoastal Waterway and Bahamas.
Many times we brought yachts from New Jersey up to Lake Simcoe and all sizes of boats mostly power, but some sail all over the Great Lakes from Green Bay Wisconsin to Georgian Bay and in the Bahamas to Florida.
Each time, I was First Mate and total crew. Our present boat is a 30' Windy Express Cruiser from Norway with twin I/O's.
Back in 2003, the local yacht club was having a First Mate seminar. I know that all boats are different and First Mates develop tips of their own and are willing to share, so everyone benefits. I eagerly signed up thinking I would learn some neat new tips.
That wasn't the case. What was intended as a First Mate course quickly turned into more of a marriage counseling session covering the contract that should be written between husband and wife before they leave the dock so that, when the wife felt uncomfortable, she could request that they return to the dock and the captain would obey her request.
Most in attendance were wives who sailed with their husbands and knew very little about boating. They were often afraid when underway and wanted to turn back. They admitted that they very seldom knew where they were at any given time and were used to being yelled at by their husbands, when they didn't know how to perform a requested task.
I realized that most of the people in the room weren't First Mates at all. They were merely what I call "guests" on their husbands' boats, not participating in the duties of First Mate.
When asked to hang the fenders or pull the halyards, they didn't know what to do and were yelled at, when they didn't know how. In my opinion, instead of a marriage counseling course, these "guests" needed knowledge of how to perform the duties and responsibilities of a First Mate.
With knowledge, there would be no need for the yelling and arguing described in the room that day. They could actually enjoy boating, instead of being afraid and not knowing where they were on the water or what to do.
When I got home, I searched the internet and found this was the case in other yacht clubs, and instructors had taken the same approach—marriage counseling.
That's when I decided to write First Mate 101 for beginners and experienced boaters. There's always more to learn and we can all benefit from the experience of others to shorten the learning curve.
This book will educate and help you become a First Mate or a better First Mate.
First Mate 101 is for boaters on pleasure boats—both power and sail
who want to learn what to do as a First Mate and how to do it better and easier;
First Mates who want to be better First Mates; and
experienced First Mates who want to learn some new tips and ways of doing things easier.
There is always a better way to accomplish First Mate jobs and, rather than trying to re-invent the wheel, reading this book will help you shorten that learning curve and simplify the work, so you can have more time enjoying boating—because that's what it's all about—enjoying boating.
First Mate 101 – Everything you need to know
managing the interior of your boat
managing the exterior of your boat,
and how to do it easier.
PDF download or printed.
 You may also be interested in: